Latham Christian Academy is privileged to have nine graduating seniors during the 2018 – 2019 school year.  Several members of the Class of 2019 have attended LCA for a long time, and they have all become good friends during their time here.  We will be highlighting one of the seniors each month in an article published in our Knightline newsletter.  We complete the series this week with senior Abigail Beaudoin.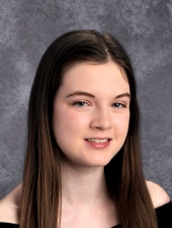 Abby has attended LCA since her sophomore year.  Before being here, she had attended Oakwood Christian School since kindergarten and had expected to graduate from OCS before they had to close down.  Abby's tenth-grade sister Emily joined her at LCA this year.  When Abby graduates from LCA next month, she and classmate Joel Collins will become the first two graduates to have a parent who also graduated from LCA.
Abby's father grew up in Troy and attended high school at LCA from seventh through twelfth grades, graduating with the very first graduating class in LCA's history.  After graduation, Abby's father joined the Marines where he served for four years, including in the Persian Gulf War.  As a veteran, he then attended Hudson Valley Community College where he studied automotive mechanics.  After completing his studies, he entered that line of work.  Eventually Mr. Beaudoin went into the financial business.  He has also worked for Oakwood Christian and is now a mail carrier in Eagle Bridge where he has worked for the past twelve years.
Abby's mother also grew up in the Troy and Waterford area and attended Troy High School.  After graduation, she attended Schenectady Community College where she studied travel and tourism.  Abby's mother was able to stay home with her daughters.  Once she went back to work, she served in the lunch program and early care at Oakwood Christian.  She works in a similar capacity at La Salle Institute in Troy today.
The two of them met through mutual friends and decided to attend a movie as a group.  Abby's mother almost didn't go with her friends but now she is glad she went!  They were married about two years before Abby came along.
Abby's family lived in Lansingburgh along with her great grandmother for the first year of her life.  The family then moved to Speigletown where they have lived in the same house ever since.
Although Abby reported, "My life is pretty boring for the most part," she actually is involved in many areas.  While attending Oakwood, she was involved in Mr. Lindsay's media club where she would take photos, create videos, and practice Photoshop in his office.  Abby also enjoys reading (mystery books are her favorite) and hiking in the Adirondacks during her free time.
When Abby came to LCA, it was the first time she had ever changed schools.  While it was certainly a time of adjustment for her, she has become a lot closer to the other seniors—especially the other senior girls—over the past year.  Junior Maria Izzi both came to LCA at the same time and the two of them have become close since then.  The two of them are very excited that they will be travelling to Israel next month as a part of a group put together by Pastor Walter.
Abby will fondly remember several LCA teachers she has had.  She is very appreciative for the help that Mrs. Walter and Mrs. Hamilton have given as her math teachers.  She remembers US History class with Mr. Fry, "That was fun!  I like history a lot!"  Abby also appreciated Mrs. O'Rourke's ministry in her life during the year they were at LCA together.
Abby attended Oakwood Bible Church as a young girl before her family began attending Brunswick Baptist Church when she was about 12.  Abby accepted Christ as her Savior when she was 7 years old and was later baptized at Brunswick Baptist along with her mother and sister.  Abby is involved in her church's annual Family Fun Day and helps Mrs. Roarke in the junior church ministry there.
Abby plans to attend Hudson Valley Community College and major in criminal justice.  Once she earns her Associate's degree, she plans to transfer to a private college to complete her four-year degree.  Abby desires to live according to her life verse from 2 Timothy 1:7, "For God hath not given us the spirit of fear; but of power, and of love, and of a sound mind."