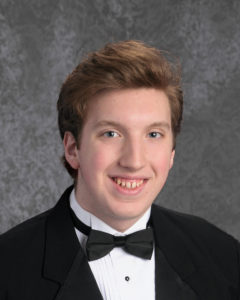 Matthew Mansfield has attended LCA for eleven years, making many memories and special friendships during those years.  Matthew was born in West Seneca, New York, where he lived for nearly three years.  Matthew still has many family members in the Buffalo area, including three grandparents and many aunts, uncles, and cousins.  When his family moved to Clifton Park just before Matthew's third birthday, they found a place to call home and have been in the same house ever since.
Matthew's father has worked for Norton for over twenty years and has been able to travel to many exotic locations such as China, Luxembourg, and France, as well as many destinations across the United States.  Matthew's mother has taught in the K3 program at LCA for ten years after being a stay-at-home mother with her four children.
When the Mansfield family first moved to the Capital District, they began attending Latham Bible Baptist Church.  Pastor Davoll, then the senior pastor at LBBC, had previously served as youth pastor at their church in West Seneca, so the family made the connection right away.  Matthew grew up at LBBC, serving in a variety of ministries, including youth group and VBS.  Matthew remembers, "I'm the kid who just shows up and says, 'Where do you need me?'"  Matthew, along with his father and his brother Sam, have repaired and upgraded just about every part of the church and school building here, including the gym floor, the roof, and even the restrooms.
Matthew accepted Christ as his personal Savior when he was six years old, during the summer between kindergarten and first grade.  Having grown up in a Christian home, Matthew always knew about Christ, but that summer was the first time it "connected."  His older brother Sam (LCA Class of 2013) led him to Christ in their bedroom one evening that summer.  Matthew followed Christ in believer's baptism at LBBC several years later, being baptized by Pastor Walter.
Matthew enjoys music during the free time he has, playing his guitar, bass, and drums.  As a boy, he played some tee ball and some rec. league hockey, but today he enjoys more one-on-one activities with his brother as well as playing basketball on LCA's team.  Matthew's father continues to build an ice rink in their yard nearly every winter so they can play hockey together as well.
Matthew will carry some lasting memories from his time at LCA, including one time that a nearby house had a fire in their shed, leading to thick black smoke and a propane tank exploding in a "black mushroom cloud" after school one day!  In third grade, Matthew also got to go on a special reward trip to a bowling alley.  He and classmate Joshua Arthur started walking around the alley until they found a pool table.  While looking for a pool cue, they suddenly realized that they were in the alley's bar.  Unfortunately, Mrs. Kettlewood noticed them at the same time.  Matthew reports, "We got kicked out of the bar by Mrs. Kettlewood!"
Matthew and Joshua, his only senior classmate, have been together for many years.  Matthew says, "If you got in trouble, you got in trouble with Josh!"  He was that kid!  Josh has been one of Matthew's few classmates also to be into sports.  They have spent a lot of time at each other's houses, especially since they became close in seventh grade.
Matthew also misses his friend Matthew Heller (LCA Class of 2017), calling Josh and the two of them "The Remnant"!  Matthew will remember that he and Matthew Heller were close in elementary and would "hang out" together, while he and Josh would do "stupid stuff" together!
Family is very important to Matthew.  He has been close to his older sister Lydia (LCA Class of 2011), especially since she came home from college with her driver's license, helping to make the connection between them.  Current LCA faculty member Sam has also come home now, and Matthew has noticed, "There is less food in the house!"  Matthew and Sam will "compete about who is more competitive"!  While Matthew missed Sam while he was away at college, he has enjoyed having him home again.  Matthew and his "baby sister" Grace (10th grade) just "understand each other" and became especially close while their older siblings were away at college
Matthew is seeking God's will for the future and is considering going to Bible college for a two-year program there.  One special Bible verse for Matthew is John 3:30, "He must increase, but I must decrease."